The 19th annual eHealth Conference and Tradeshow is Canada's largest congregation of digital health professionals, offering proactive top-quality learning and an opportunity to network with organizations and people that value quality health information as well as effective integrated system solutions.
This year Excelleris had the opportunity to have a platform to talk about the Paper Reduction Project within British Columbia. François Chevallier, VP of Excelleris, presented how this initiative had an amazing outcome for our future as patients, health care practitioners, and the community as a whole. Excelleris continues to partner very closely with The Health Information Standards and Results Distribution Executive Steering Committee to keep the highest quality of responsiveness in all areas. 
Several major activities were taken to achieve the goals of this project including Technology statements, a detailed provider distribution process flow, and a tracking system for provider location transitions. As Mr. Chevallier expressed in his speech: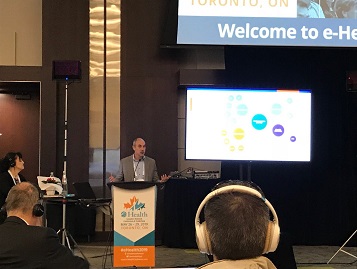 "A multi-disciplinary approach was necessary to achieve the goals.
Excelleris will examine regional differences with technology adoption, discuss the main objections received by the working groups and review how those were addressed and provide general recommendations for other provinces, health authorities or hospitals who wish to engage in a similar initiative."
Taking into consideration how the field of Health Informatics and Technology are moving in giant steps, one thing is sure, both have come together to work in moving the services currently provided in a new era of sustainability, cooperation, and efficiency in results.
For additional information on the Paper Reduction initiative in British Columbia, click here.